From employee to entrepreneur by the will of God
"I say that this Ministry is Jesus and the Apostle Valdemiro Santiago is the anointed man of God"
15/01/2018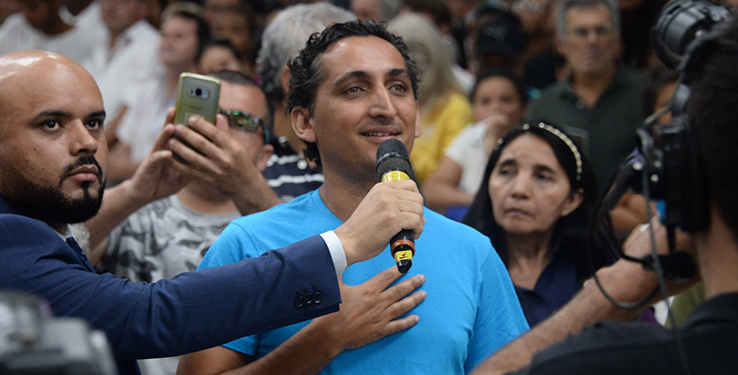 PHOTO: Eduardo Pinto
The resident of Contagem, Minas Gerais, Weber Douglas Guimarães, 35, had his life modified by God. "I lived under humiliation, ignored, worthless. I used to work, but my bosses never saw my production, and there were some people who used to call me a fool. I searched for a promotion, an opportunity, but I was always carrying cement on my back". According to Weber, "I got sick a few times due to pression, my blood pressure reached 24, I almost heart attack because of work and yet, all I received were charges. In the end, what I earned was not enough to pay for my debts and people charged me on streets, in front of everyone. No one believed in me, I never expect any good thing in my life. I was a driver and I used to receive around 800 reais".
That`s how Weber came to Jesus. "I went to the Worldwide City of God's Dreams in Brás, asking Apostle for prayer, I told my case and he asked me if I were a worker. I told him that work was what I did, but I never saw money. The Man of God has blessed me and from that day on, God began to put projects in my heart.
I started to receive support, opened own business, managed investments and a partner, after machinery. Today, I have a company assets of more than 1 million reais, everything that God gave me in twenty-five days, one more company mills and everything that is produced, God has blessed that nothing stays without selling and is always for buyers to view. I say that this Ministry is Jesus and the Apostle Valdemiro Santiago is the anointed man of God "
Cured Skin Cancer

16/10/2019

For the honor and glory of the Lord I was healed, "says José Pedro Cardoso, 79, a resident of the city of Sã...




Cured Leukemia

14/10/2019

Solange Aparecida Onorato da Rocha, 50, resident of the city of Pardinho. He came to the World Church of God...




Cure from an infection

09/08/2019

Maria Lidiane Rodrigues Ferreira, 29, resident of the city of Francisco Morato. He came to the church to tel...