Africa In God`s Heart
Apostle talks about projects, receives compliments, and reciprocates
19/09/2017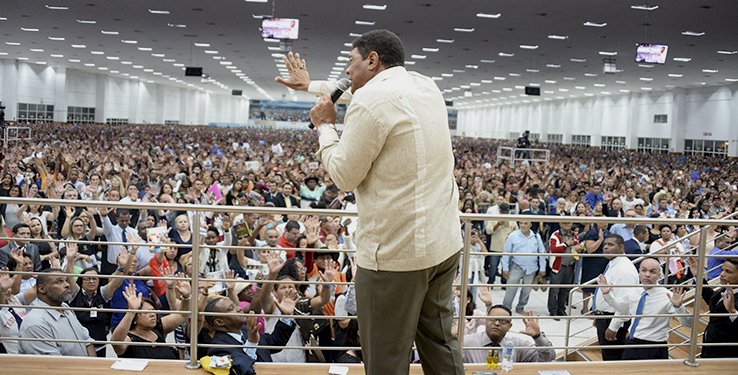 PHOTO: Eduardo Pinto
According to God`s man, one of his projects, according to God`s allowance, will take place in December 2017. Apostle Valdemiro Santiago declared his intention of releasing the Worldwide City of God`s Dreams in Angola, in Africa. "God set the wish of blessing Africa in my heart at the beginning of my ministry, and it will be the fulfillment of a dream of mine," declared God`s man.
Apostle Elias thanked Apostle Valdemiro Santiago and the Worldwide Church of God`s Power for the work performed in Africa. "I call Apostle as my father in faith, and I consider the Bishop Franciléia as a mother, and in Africa, I just hear good talks about them. We want their presence in Angola three or four times a year because we miss them. These people are needy of God".
Apostle thanked Apostle Elias as well. "Apostle Elias has his own work, and I have already helped it and will help it much more with an open heart because I`m sure it`s God working. He has worked for God and in favor of this ministry out of Brazil. I feel happy for this tenderness."
God's Friend Purpose

08/08/2019

Purpose called God's Friend Company, it is a new campaign by the World Church of God's Power. "This offering...




World Relief Week

02/11/2020

We are currently going through a very difficult phase in IMPD programming, "we received a notification from...




We return to activities at IMPD

24/04/2020

From Sunday, April 26, 2020, we at the World Church of the Power of God will open the door to our services....