His faith saved him.
Their faith is the greatest proof of love for God.
10/08/2020
By: Apostle Valdemiro Santiago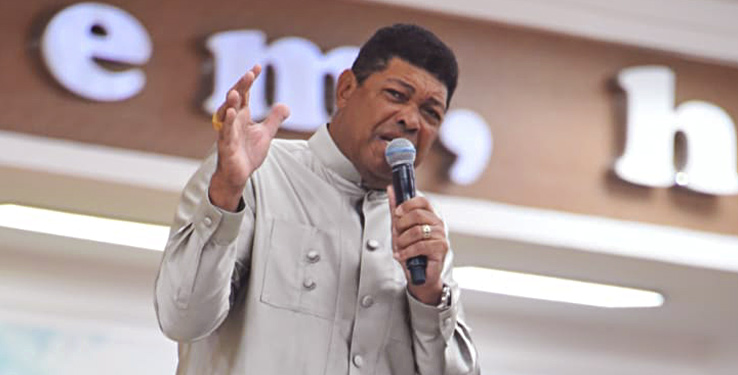 PHOTO: Eduardo Pinto
The people were there and watching everything. The authorities also scoffed and said: He saved others; save yourself, if you are, in fact, the Christ of God, the chosen one. The soldiers also mocked him and, approaching, brought him vinegar, saying: If you are the king of the Jews, save yourself. Luke 23: 35-37
Jesus went through several situations when he was on earth, moments of humiliation that He did not need to go through, called a bandit, a criminal, and they even spit on Him. And every thing that Christ went through was for you, for your deliverance and salvation.
He is kind to everyone, he is no respecter of people. He just loves, so be grateful and place your faith in the Father. One of the crucified malefactors blasphemed him, saying, Are you not the Christ? Save yourself and us too. But the other answered him and rebuked him, saying, Do you not even fear God, being under the same sentence? We, in fact, with justice, because we have received the punishment that our actions deserve; but this did no harm. And he added: Jesus, remember me when you come into your kingdom. Jesus answered him, Truly I say to you, today you will be with me in paradise. Luke 23: 39-43 The evildoer on the cross beside Jesus understood that he was God and was saved at the last minute, because his faith saved him. In difficult times the Lord is always by our side, trust Him. Men are generally resistant to God, but the only thing that makes us equal is our faith, it puts us on the same level and helps us to realize our dreams, projects and guides us to continue firm and constant. Our faith makes us go far, keep believing, firm in the word of the Lord and so in the last days you will achieve the most important thing that is to live beside Him forever and ever. Have a blessed afternoon !!!
LIVE IN THE LIGHT

04/12/2020

There in John 8:12 it says: "Jesus therefore spoke to them again, saying, I am the light of the world; whoev...




PUT GOD AT THE TOP OF YOUR LIFE

03/12/2020

"When Solomon had finished praying, fire came down from heaven and consumed the burnt offering and sacrifice...




WISH TO KNOW JESUS

02/12/2020

For a public person, famous and sought after like Jesus, crossing the city was very difficult and he crossed...