God operates miracles
"Just for surviving from the fall, it`s a miracle already"
01/07/2017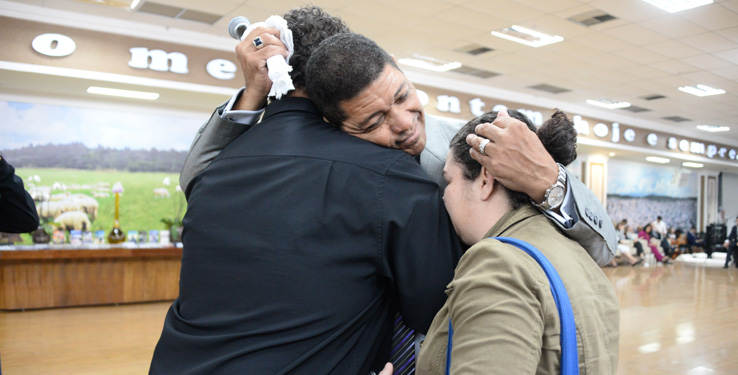 PHOTO: Eduardo Pinto
A fall of five meters high cost the life of Alaelson Rios Ribeiro, 35, resident in Itaquaquecetuba, São Paulo. "I fell from the slab and hit my head. I had a cranial trauma, which reached beyond cranial bones, the brain mass, I bled inside the brain and it generated a clot, I had a rib broken and water in the lung.".
Alaelson`s family received the news that he was hopeless. "Just for surviving from the fall, it`s a miracle already. For me to keep alive, doctors needed to open my head in order to remove the clot and quit bleeding. If I overcame the proceedings, I would vegetate due to possible brain damages.
My mother and my wife sought God on behalf of me in this ministry and God touched my life and operated me. Doctors didn`t need to open my head in order to heal me because Jesus cured me before the last exams confirmed. I didn`t have any physical sequels much less mental ones because God`s work is complete. I glorify Jesus very much", concluded
Cured Skin Cancer

16/10/2019

For the honor and glory of the Lord I was healed, "says José Pedro Cardoso, 79, a resident of the city of Sã...




Cured Leukemia

14/10/2019

Solange Aparecida Onorato da Rocha, 50, resident of the city of Pardinho. He came to the World Church of God...




Cure from an infection

09/08/2019

Maria Lidiane Rodrigues Ferreira, 29, resident of the city of Francisco Morato. He came to the church to tel...