God Can Change Your History
"Today, I`m a new person, I`m thriving (…)"
05/10/2017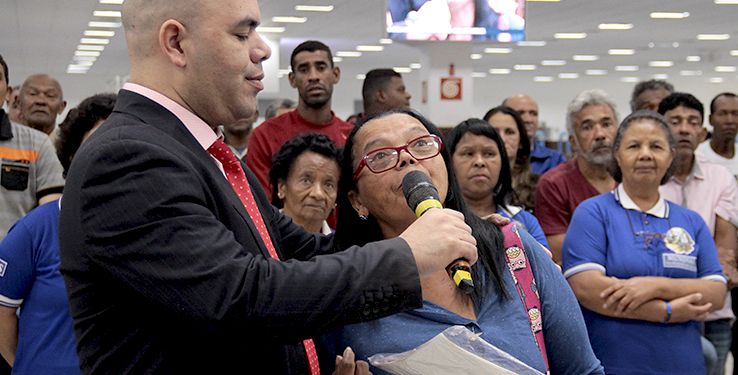 PHOTO: Divulgação
"I used to live in a misery condition. My monthly income used to be R$ 50,00", that`s one part of the testimonial of restoration that the Lord God performed in Cosma Maria da Silva`s life, 56, resident in Pernambuco. Cosma faced hard times with a lot of needs, difficulties, and used to feel lonely before giving in to Christ`s feet. "Running out of money, I started to prostitute my body, but things got worse. I used to face aggressions during the night", reports the resident of Pernambuco.
One day, she met the Worldwide Church of God`s Power through the TV program. From that day on, God has changed her history. "I started to attend the services at the church; I quit prostitution, and I became a tithe giver. In the beginning, my tithe was just R$ 5,00, but I was very happy to give it back to the Lord", reveals Cosma.
"I had two lawsuit cases and my retirement plan was stuck in court. I started to pray and ask for God to get into them. So, the two lawsuit cases were judged as well as my retirement plan for the honor and glory of God" she says. Besides those cases and the deliverance, God has thoroughly changed Cosma`s life, "Today, I`m a new person, I`m thriving, my tithe is around R$300,00. I have two houses, and I`m a servant at the Lord`s house. Jesus Christ provided and has provided me with wonderful conditions" comments the servant. "Come here, it`s Heaven", Cosma concluded her testimonial.
Cured Skin Cancer

16/10/2019

For the honor and glory of the Lord I was healed, "says José Pedro Cardoso, 79, a resident of the city of Sã...




Cured Leukemia

14/10/2019

Solange Aparecida Onorato da Rocha, 50, resident of the city of Pardinho. He came to the World Church of God...




Cure from an infection

09/08/2019

Maria Lidiane Rodrigues Ferreira, 29, resident of the city of Francisco Morato. He came to the church to tel...