Wheat and honey call
Bread and honey are delivered to believers.
16/05/2017
Article by: Victor Correa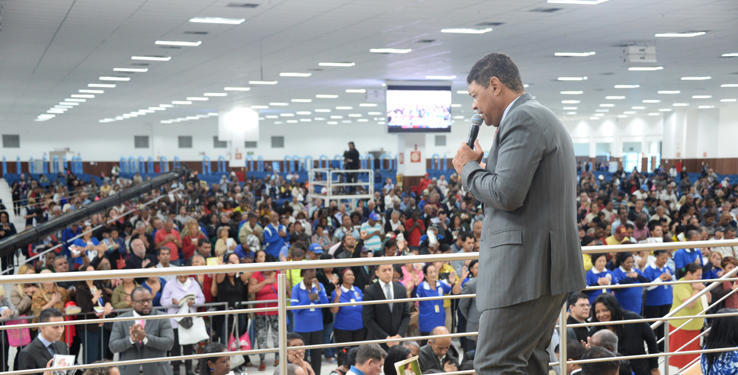 PHOTO: Eduardo Pinto
Jesus, in the past, was fed with honeycomb, the Holy Scriptures tell us. Honey is very blessed, as well as the wheat because the wheat represents God Himself. "The God Father chose derivate from wheat, bread to represent His Son. It`s the same as Jesus saying He came from the wheat, so Jesus called The Father Himself as wheat. He said He was sent by God Father" Apostle Valdemiro Santiago explains.
On this Sunday, at 9 AM, at the service called Sunday of the Impossible Causes, in East Zone in São Paulo, in Brás, at the Worldwide City of God`s Dreams, it will be given everyone wheat and honey. Apostle`s word said, "Together with wheat and honey, we will deliver the nourishment of God. Be nourished by God is to be hugged, comforted, healed, having conditions to overcome your debts, be protected, receive hope, that`s what it means to be nourished by God. The message of the Psalm 82: 16 is really rich and wide, which distance is immeasurable. The finest wheat is God who feeds us with honey that falls from rocks which means Jesus".
Be present and receive the wheat and honey for your spiritual nourishment, honey that falls from rocks, and wheat that originated Jesus, the Savior. They will also be delivered at The Worldwide City of God`s Dreams in Santo Amaro at 15PM. Be supported by the Power of God
God's Friend Purpose

08/08/2019

Purpose called God's Friend Company, it is a new campaign by the World Church of God's Power. "This offering...




World Relief Week

02/11/2020

We are currently going through a very difficult phase in IMPD programming, "we received a notification from...




We return to activities at IMPD

24/04/2020

From Sunday, April 26, 2020, we at the World Church of the Power of God will open the door to our services....