Project your life for 2018
New year starts now
02/01/2018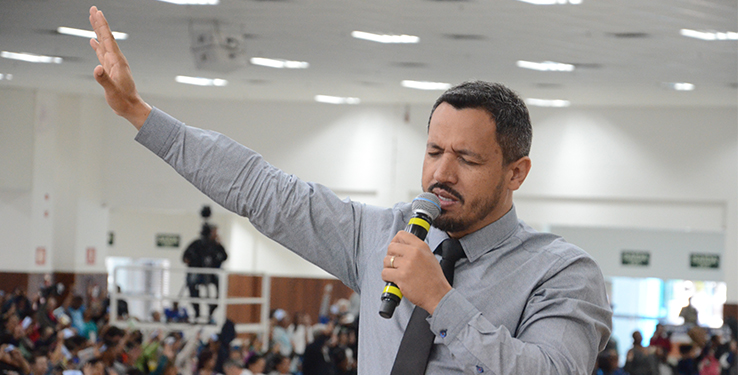 PHOTO: José Monteiro Neto
It`s another year of confrontation and Ebenezer. When he erected the temple in the stone, he called Samuel Ebenezer and said: So far he has helped us the Lord. The year 2018 technically starts Sunday, but something new that God can do for you now. When man makes an alliance with God, fall what falls; God's promise will be in this man's life to his bones. If you understand that, nobody holds you, nothing stops you. If you are in alliance with him, God's promise is rooted in your life. When they dug the grave for a mysterious man, a grave was dug over another grave and the lower pit was of the prophet Elisha. I don't know whether by coincidence or luck. At the moment they were burying the deceased, they perceived the entrance of men to stop them and they threw the deceased who fell in the same grave where the body of the prophet Elisha was, man who had covenant with God. When the deceased fell on the bones of the prophet Elisha, he hit the bones and resurrected, jumped up and got up on his feet and still ran out and passed to the others who threw his corpse! Children of Abraham, you who will make an alliance with God in this place, if you have a pact with him, a vow with God, vow to obey, to keep his word, not to measure efforts to honor the Lord, God will be with you, at every moment, everywhere. Today ends another spiritual year for us and another begins. The question is whether it will be just another year or the year of years that will come upon us. From today, prophesy, and think big. Stop thinking small and start removing everything that comes from your smallness, to receive a new heart, great, as our God and you will be on top, never under. The night of Abraham will shine on your life and mark your heart, take possession of the promises God makes for each of us, materialize them by faith, at this special moment. With the Lord on his side, the battles will exist, but they shall be followed by victories.
In 2018, we will have a lot of problems and that come all, because we can not win without challenges and opponents. What would David do without a Goliath to face? He was the biggest problem that David faced and also his greatest achievement, his greatest accomplishment.
When we think of Joshua, we think of the walls of Jericho. You need great battles for great victories. Our realization is in facing the challenges. No challenges, no answers about what we want. We are marked by the greatest adversity we face and is where we are most blessed. Jesus had a purpose, that of salvation. Born, grew and died so that you and I would have eternal life. We have to have projects in our lives too. Deliver this project to God in the first days of the year, because this is the year of total and complete change. Let's pick up what we're designing. Everything that starts well ends well. Start 2018 on the Lord's feet.
God's Friend Purpose

08/08/2019

Purpose called God's Friend Company, it is a new campaign by the World Church of God's Power. "This offering...




World Relief Week

02/11/2020

We are currently going through a very difficult phase in IMPD programming, "we received a notification from...




We return to activities at IMPD

24/04/2020

From Sunday, April 26, 2020, we at the World Church of the Power of God will open the door to our services....